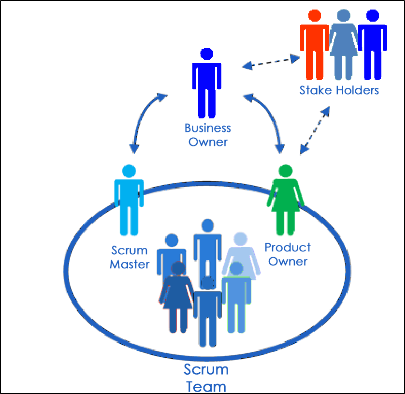 Traditional project management methods demand many different roles like that of product manager, team leader, etc. All such roles are not required and are reduced from the scrum teams. SCRUM teams have three key members. The roles for each of them and their inter-associations are very clearly defined. In this article, we will first talk about these three key stake holders and then would discuss about how they are interconnected with each other.

Let's look at the roles one by one:

Product Owner:

Product owner is the one who shares the vision of the project (or the product to be developed), prioritizes the functionalities to be built and makes key decisions on behalf of the team or the project. While during project execution, product owner is the one who is responsible for maintaining the product backlog, bridging the gap between the developers and other stakeholders, managing the end-user (or customer) expectations and managing the budget (ROI). He is also the one who takes a call on the quality of the product and if it requires any improvement.

Being a product owner means being someone who is eventually responsible for the success / failure of the product.

Scrum Master:

Scrum master is someone who is responsible for solving any sort of problem that the team is facing while building the product. It is not necessary for him to completely understand the requirements; he must be capable enough to find solutions to situations. He has to create and maintain the best possible working condition for the team members so that they can meet the goals of each sprint effectively.

He is responsible for guiding the team, building a trustworthy environment within the team, facilitating discussions – negotiation – communications and removing impediments and problems.

Scrum Development Team:

A scrum team is cross-functional team that is responsible for developing the product. It is a small team consisting of developers, business analysts, testers, etc. The team works together and in tandem while building the application. The activities of each of the team members are aligned in a way such that the targets associated with a specific sprint are achieved. Team members are also responsible for identifying the complexity of the tasks (assigned to them) and allocating efforts (in number of hours / days) to those. They are responsible for communicating the status of project daily to scrum masters, issues that they are facing to again the scrum masters and giving a demo of tasks completed by them to product owners during sprint reviews. Basically they are the ones around which tasks associated with Product Owners and Scrum Masters are assigned.

Interrelationships between the stakeholders:

The three stakeholders are inter-related to each other in following format –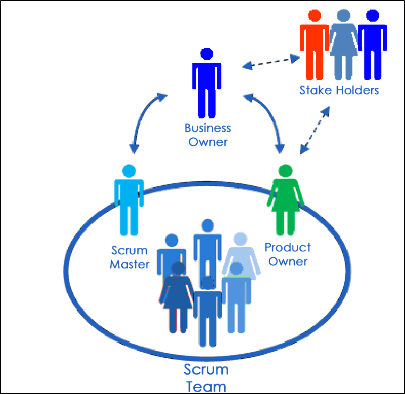 Product owner bridges the gap between the scrum team and the stake holder

Product owner is also connected to the business owner and keeps communicating the owner's goals with the scrum team

Scrum master is connected to both the business owner and scrum team

Scrum master helps in resolving issues that scrum team is facing

Scrum team member amongst themselves collaborate extensively and follow a cooperative product development model

Product owner communicates the business requirements to scrum master and scrum team

This post is also available in: French