Performance & Load Testing
Resources Center
Thinking Lean
---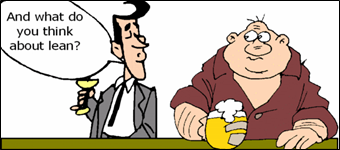 While in AGILE, you must think of improvement in efficiency and reduction in wastage. Yes the wastage is in the form of human efforts that may get wasted re-working on a piece of code / while developing a functionality that will eventually never be used. These ideas and many others as are adopted in Agile were conceptualized in Lean methodologies. Thus while in AGILE the team members and stakeholders are advised to think in Lean manufacturing approaches. Let's look at some of the key ideas from the same –
Respect People: Respecting people, treating everyone right and empowering teams is one of the core ideas in Lean and in Agile. People are supposed to align their actions oriented to the project while working in the teams and are empowered with necessary tools to facilitate their effective operations into the team. Processes are aligned such that people issues are appropriately addressed while making sure that the end product is developed as per the expectations. These ideas make it fun and easy for team members to focus their actions and thoughts towards the problem at hand and help them deliver a better end product.

Quality: Quality can't be tested and validated at the end of the product development. Each step in the process requires a well maintained and managed quality process in order to get a best quality output. Thus in lean and in Agile quality is tested and checked for at each critical stage. Most teams try to integrate the sprint cycles with the regression testing frequency. Also benchmarks and targets for quality are set to keep a check on processes and standards as set.

Quick delivery: Teams try to identify key business functionality and try to deliver some of those in the first sprint. Next most important ones are delivered in the next sprint and this process goes on sprint after sprint. Sprints are planned on a weekly or fortnightly basis (at times 2-4 weeks). Quick releases are thus planned and product is developed in an incremental manner.

Knowledge creation: Knowledge creation and sharing are laid huge emphasis on when it comes to lean manufacturing. This allows teams to quickly refer to the concerned knowledge material and get issues resolved quick. It also allows team members out of the project to refer to work done by other teams and make use of same in their own work. Knowledge creation is made a responsibility of every member of the organization and each member that contributes feel enriched with more information after creating the knowledge material.

Eliminate wastage: There is a huge emphasis on eliminating wastage from the system and the processes. Re-work is avoided, exhaustive planning and intensive discussions happen before any part of the system is developed. Only functionalities that would eventually be used are developed. Requirement management is completely managed by the end user / customer and he keeps a close eye on the progress of the solution as it is gets developed by the team.

Optimize the whole: The idea of optimization comes from getting the most returns from the investments made. A perfect solution is never desired. A solution perfect enough to meet the desired needs is what the business targets to achieve. Thus with a less monetary and time investment end solutions are build which cater to business requirements in the best possible manner.

Defer commitment: Though the name doesn't look very positive, it doesn't mean negative. It doesn't mean deferring all decisions, or avoiding key situations. Also it doesn't mean letting the teams know about the final iteration date. It just means keeping options open and taking the right decision at the right time when it is right for the business. I know it sounds too right, but trust me when you get deeper into the project you would get the right understanding of this aspect in lean and you understand the real (and right) benefit of this idea.
In a nutshell, Lean principles teach us to eliminate everything that is not adding value to the business target and organization goals. The principles also put a huge emphasis on what it calls as 'system' i.e., the way team operates as a whole. Idea is to together move towards the goal to achieve the target!!!
---