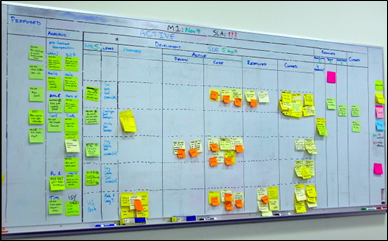 What is Kanban?

KANBAN is a Toyota principle and literally means 'Signboard' in Japanese. Kanban advocates continuous improvement and emphasizes on making everyone get an explicit and clear idea of the entire process. It advocates minimum work in progress inventory and just in time production. This allows team to bring continuous improvement in their operations and minimize wastage.
Principles of Kanban:
Start NOW with what you are doing

Current processes, tools, roles and titles stand a lot of value

Target incremental change

Every member in the team is a leader
Core properties of Kanban:
Limit work in progress

Visualize the workflow

Improve continuously and collaboratively

Make process explicit to every team member
These principles are explained in more detail in another article. Here is the link -> Core principles and properties in KANBAN explained!
When to go for KANBAN?
When you want to pay a keen attention on process improvement

When business requirements keep changing quite frequently

When the team prefers to have flexibility in the length of iteration

When less time is to be spent in planning and estimation

When you want to take team work and collaboration to the next level

When you are happy with the current setup and want to keep your avenues open for further change
What are the benefits of Kanban?
The process is not required to be changed altogether and even roles and titles do not change substantially. Changes happen gradually without creating a sense of fear among the team members and the change drivers. Thus it fosters risk taking attitude and thus creativity.

Laying down the process explicitly on the dashboard makes bottlenecks explicit in those. It also helps team members to easily get acquainted with the activities happening within the team and the project and thus make them more capable in bringing innovation and change.

Shifting from waterfall to scrum or other Agile methods may require significant changes to be made in the team and the processes. However Kanban advocates to key sufficient weightage to existing system too and bring changes incrementally. Thus teams that were not able to achieve the transition from waterfall to agile can now achieve the same through Kanban.
Some misconceptions about KANBAN –
Kanban is better than XP / Scrum / DSDM: Kanban is not an approach that is better than Scrum / XP or any other for that matter. It is a method of achieving an output to a project. It is a project management methodology.

There are no sprints (iterations) in Kanban:
Estimations are not done in Kanban: Planning poker in SCRUM has created a buzz in the industry. However that doesn't mean that the other methods don't play as much emphasis on planning and estimation as Scrum doe
This post is also available in: French