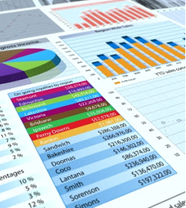 In the days of AGILE, where quick application development, test, fix and releases are happening sharing a static report for a performance test is not the norm. A more and modern approach to what to be reported has taken shape. The project managers and business sponsors need more than a report to be presented. They need a thorough analysis and conclusions based on those. They need information on what has gone wrong and which component to be looked into to resolve the issue noticed. They need data to back the test findings and they need total value out of the tests. At the same time there are other stakeholders involved in the test. These are the tech team members who play a very critical role in further fine tuning the app. To satiate them, one needs to present them with not just the response time numbers and the transaction failure rates, but also trends of those over earlier releases, individual data points associated with those, failure points, data associated with failures, information on activities happening on the servers during the failures. In this article, I am trying to highlight what in performance test result report matters and how is that helpful for the business, the tech folks and the customers.
Transaction related items:
For each transaction following items should be included in the result report :
Average response time
Transaction failure rate
Minimum response time
Maximum response time
Standard deviation of response time
>
95% response time
Execution as a % of total transaction execution
Comparison over earlier tests (for earlier releases or same release):

Avg response time of this release Vs earlier releases
Transaction failure rate of this release Vs earlier releases
95% response time of this release Vs earlier releases
Execution % of this release Vs earlier releases
Client side counters: Following are client-side graphs, if included, help in analysis –
Hits per sec over the test
Number of concurrent users over the test
Transactions per sec over the test
Error per sec over the test
Average throughput graphs
Total hits graphs
Server related counters:
Processor:

% processor time / total,
% disk time
Processor queue lenght
Disk queue length
Interruptions/sec
Thread count

Memory:

Available bytes,
pages / sec,
page faults / sec

Network:

bytes / sec
not found errors / sec
anonymous users / sec

Active server pages:

Requests / sec,
Memory allocated,
requests queued,
requests errored – rejected
Error details:

Error snapshot
Form data for the transaction that failed
Time on server when transaction failed
Any loss of data in db
Performance counters on app & db servers at the time of the failure
Steps to reproduce the transaction that failed
Things that matter to business:
If the issues observed in earlier releases were resolved?
If issue wasn't resolved, was there any performance improvement at least that was observed?
How the servers were utilized during the peak load? Can the capacity be reduced?
How long the issue fixation will take?
Are the SLAs realistic and achievable?
Is there any change in schedule / SLAs that need to be taken into account?
This post is also available in: French